Vegetarianism and Judaism
The vegetarian diet enjoys a degree of popularity in the West. Some choose to be vegetarian for aesthetic reasons: they don't like the taste of meat, or they regard a meat-based diet as less healthy. Others are vegetarians because they find it morally wrong to kill an animal for food.
What does Judaism say about all this?
First, some background on the Jewish worldview:
Ideally there should be no barriers between one's physical and spiritual existence. Life should be a seamless expression of connecting to the Master of the Universe, the Author of our being. From the Jewish perspective, activities that present themselves as mundane—eating, sleeping, conducting business, relationships, etc.—are part of serving God, no less than the ritual observance of prayer, study and giving charity.
Earthly activities are the bridge through which we access higher realms. Therefore, the act of eating is not a meaningless, sensual indulgence, nor even a necessary means of maintaining our physical well being. It can and should be the proverbial ladder to heaven—a means of bringing holiness and sanctity into our lives.
The Talmud says that at the end of one's life, the first question God asks is: "Did you taste every fruit that I put on Earth?" We are enjoined to appreciate all of life's bounty. Indeed, Maimonides deems it a mitzvah to partake of meat on the holidays, in order to increase one's pleasure and rejoicing. (In practice, this does not apply to those who do not enjoy these foods.)
In general, Judaism permits the eating of meat, provided that the animal: is a species permitted by the Torah (Leviticus chapter 11); is ritually slaughtered (shechita) (Deut. 12:21); has the non-kosher elements (blood and certain fats and sinews) removed (Leviticus 3:17; Genesis 32:33); is prepared without mixing meat and milk (Exodus 34:26); and that appropriate blessings are recited (Deut. 8:10).
By eating in the Torah-prescribed manner, and with the proper focus and intent, says the Talmud, one's table can become a virtual altar in the service of God.
COMPASSION FOR ANIMALS
At the same time, the Torah stresses compassion for animals. Indeed, the Jewish forefathers are known affectionately as the "Seven Shepherds," and the Talmud describes how God chose Moses for Jewish leadership based on his tender care for flocks of sheep.
Here are some examples of Jewish legislation regarding the ethical treatment of animals:
It is prohibited to cause pain to animals - tzaar ba'alei chaim. (Talmud - Baba Metzia 32b, based on Exodus 23:5)
One is obligated to relieve an animal's suffering (i.e. unburden it), even if it belongs to your enemy. (Exodus 23:5)
If an animal depends on you for sustenance, it is forbidden to eat anything until feeding the animal first. (Talmud - Brachot 40a, based on Deut. 11:15)
We are commanded to grant our animals a day of rest on Shabbat. (Exodus 20:10)
It is forbidden to use two different species to pull the same plow, since this is unfair to the weaker animal. (Deut. 22:10)
It is a mitzvah to send away a mother bird before taking her young. (Deut. 22:7)
It is forbidden to kill a cow and her calf on the same day. (Leviticus 22:28)
It is prohibited to sever and eat a limb off a live animal. (Genesis 9:4; this is one of the "Noachide" laws that apply to Jews and non-Jews alike.)
Shechita (ritual slaughter) must be done with a minimum of pain to the animal. The blade must be meticulously examined to assure the most painless form of death possible. ("Chinuch" 451; "Pri Megadim" - Introduction to Shechita Laws).
Hunting animals for sport is viewed with serious disapproval by our Sages. (Talmud - Avoda Zara 18b; "Noda BeYehuda" 2-YD 10)

To deal casually or cavalierly with the life of an animal is antithetical to Jewish values. This sensitivity is illustrated by the following story:
In a small European village, a shochet (ritual slaughterer) fetched some water to apply to his blade in the preparation process. At a distance, he observed a very old man, watching him and shaking his head from side to side disapprovingly. Finally, the young shochet asked the old man for an explanation.
The old man replied that as he watched him prepare his blade, it brought back memories from many years earlier when, as a young man, he had observed the saintly Rabbi Israel Baal Shem Tov (founder of the chassidic movement) doing the same thing. But the difference, he explained, was that Rabbi Israel did not need to fetch water in order to sharpen the blade—rather the tears that streamed from his eyes were adequate.
HIERARCHY OF CREATION
While Jewish law protects the ethical treatment of animals, Judaism also maintains that animals are meant to serve mankind, as it says: "Let man dominate the fish, birds and animals" (Genesis 1:26). There is a clear hierarchy of creation, with man at the pinnacle.
Maimonides identifies four levels in the hierarchy of creation, in which every creature derives its sustenance from the level beneath it:
Level 1: Domaim—the silent, inanimate realm (i.e. earth and minerals) constitutes the lowest existence, and is self-sustaining.

Level 2: Tzomey'ach—vegetation is nurtured by the previous level, earth.

Level 3: Chai—the animal kingdom eats mostly vegetation.

Level 4: Medaber—human beings (lit.: the speaking being) derive nourishment by eating both vegetation and animals.
When food is consumed, its identity is transformed into that of the one eating it. Thus the Talmud (Pesachim 59b) regards it as morally justified to eat animals only when we are involved in holy and spiritual pursuits. It is only then that the human actualizes his highest potential, and the consumed animal is, so to speak, elevated to the level of "human."
In Jewish consciousness, the highest level an animal can achieve is to be consumed by a human and used in the service of God. A chicken on a Shabbos table is a very lucky chicken! (see "Tanya" ch. 7)
If, however, the person is acting like an animal, then by what right may he consume his "peer"? What spiritual improvement can he confer upon this animal by eating it?
Therefore, before eating meat, we must ask ourselves the very sobering question of whether in fact, given who we are, are we indeed benefiting this animal?
When eating is not merely an act of "mindless consumption," but rather an act with clear intent that the strength and energy one derives from the food will be utilized to benefit the world, then eating has been sublimated to an act of worship.
RADICALIZED EXTENSION
Animal rights can be a double-edged sword: While the animal kingdom is important and must be treated ethically, we must recognize that there is no equivalence of species. Among all living things, humankind alone is created in the "image of God" (Genesis 1:26).
When the lines are blurred, when both human and animal life is considered equally sacred, this can trigger a dangerous philosophy that regards killing a human being as no more heinous than killing an animal.
Rabbi Yosef Albo (14th century) asserts that this philosophy has its roots in the biblical story of Cain and Abel. Genesis chapter 4 describes how Cain brought a sacrifice of grain, while his brother Abel offered animals. Rabbi Albo explains that Cain regarded humans and animals as equals and, accordingly, felt he had no right to kill them.
Cain then extended this misguided logic: If people and animals are inherently equal, then just as one could permit taking the life of an animal, so too could one permit taking the life of his fellow man. Thus Cain was able to justify the murder of his brother.
In modern times, the radicalized extension of Cain's philosophy came afore during the 1930s, when the Nazis passed a number of laws protecting animals, e.g. restricting the use of live animals in biomedical experiments ("vivisection"). All the while, the Nazis were killing off millions of humans. (Actually, Jews were legally relegated to the status of "sub-human.") The lines between human and animal had been totally obscured.
Today this radical vegetarianism is expressed by the organization PETA (People for the Ethical Treatment of Animals). As one example, PETA's shocking multi-media display, "Holocaust on Your Plate," juxtaposes photos of Nazi concentration camp victims with photos of chicken farms, drawing a gross moral equivalence.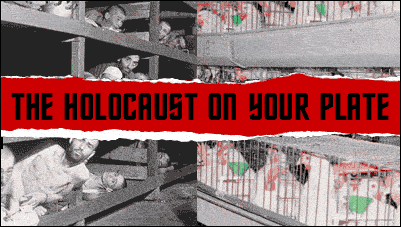 In academia, too, Princeton University philosopher Peter Singer has written and lectured extensively on how the welfare of animals supercedes that of ill babies; he also calls for society to accept human-animal domestic partnerships.
see http://www.jlaw.com/Commentary/blesspeter.html
Judaism's permitting animals for food serves as a pragmatic hedge against such extremism: constantly reminding man of his unique status among God's creation. The 18th century kabbalist, Rabbi Moshe Chaim Lutzatto, explains that all living things—humans and animals—have souls. However, not all souls are created equal. Animals have a soul which animates them and carries within it the instincts for survival, procreation, fear, etc. Only humans, with a Divine soul, have the ability to forge a relationship with God, the transcendent dimension. Only humans have the ability to choose higher "soul pleasures"—like helping the poor, even at the expense lower "body pleasures" like hoarding more food for ourselves. You'll never see a hungry dog say to his friends, "Let's not fight over this," or "Let's save some for the other dogs who aren't here."
Rabbi Abraham Isaac Kook (purportedly a vegetarian) writes that man was granted dominion over animals in order to underscore our spiritual superiority and heightened moral obligations. Were man to accord animals the same rights as humans, then just as we don't expect high moral standards from animals, we would, tragically, lower our expectations of humans as well.
HISTORICAL PRECEDENTS
Historically, Adam and Eve were vegetarians, as it says: "vegetables and fruits shall be your food" (Genesis 1:29). God only permitted meat to Noah and his descendents after the Flood (Genesis 9:3; Talmud - Sanhedrin 59b).
Why the shift?
Some commentators explain that before the Flood, man was above the food chain, given the responsibility to take care of the world and everything in it. After the Flood, man sunk a level and became linked with the food chain, albeit at the top of it. Mankind had fallen in its ability to influence the animal world through actions and deeds, and it thus became necessary to influence the animal world more directly by ingesting them.
Rabbi Yosef Albo, mentioned earlier, asserts that Cain's misguided philosophy was adopted by succeeding generations, and meat was permitted to Noah in order to emphasize the superiority of humanity over the animal kingdom.
Another commentator, the Malbim, explains the shift from a physical perspective: The post- diluvian era was marked by a general weakening of the human condition. As the quality of produce became nutritionally inferior, and as mankind became geographically dispersed and subject to varying climates, it became necessary to supplement the human diet with animal products.
Some cite the precedent of Adam and Eve as indication that in a perfect world, i.e. in the future time of the Messiah, humans will return to universal vegetarianism. The vast majority of rabbinic scholars, however, maintain that animal offerings will be resumed in the Messianic era. Indeed, the Talmud (Baba Batra 75a) declares that when the Messiah arrives, God will prepare a flesh-based feast for the righteous.
SUMMARY
In conclusion, Judaism accepts the idea of a vegetarian diet, though dependent on one's intention:
Vegetarianism based on the idea that we have no moral right to kill animals is not an acceptable Jewish view.
Vegetarianism for aesthetic or health reasons is acceptable; indeed, the Torah's mandate to "guard yourselves carefully" (Deut. 4:15) requires that we pay attention to health issues related to a meat-centered diet. Some points to consider include the contemporary increase in sickness in animals created by factory farm conditions, and the administration of growth hormones, antibiotics and other drugs given to animals. All of these may be possible health risks to humans.
In addition, there is the possible violation of tzaar baalai chaim (causing pain to animals) resulting from mass production methods of raising, transporting and slaughtering animals. The great 20th century American sage, Rabbi Moshe Feinstein, forbade raising veal in cramped and painful conditions, and forbade feeding animals chemicals in place of food, since this would deprive them of the pleasure of eating. ("Igros Moshe" EH 4:92)
Jewish consciousness requires constant attention to preserving and protecting our natural world.
Rabbi Benzion of Bobov was strolling with a disciple, deeply engrossed in scholarly conversation. As they passed a tree, the student mindlessly pulled off a leaf and unconsciously shredded it into pieces.
Rabbi Benzion stopped abruptly. The student, startled, asked what was wrong. In response, the rabbi asked him why he had picked the leaf off of the tree.
The disciple, taken aback, could think of no response.
The rabbi explained that all of nature—birds, trees, even every blade of grass—everything that God created in this world, sings its own form of praise to its Creator. If they should be needed for food and sustenance, they are ingested and become part of the song of the higher species. But to pull a leaf off a tree for no purpose at all is to wastefully silence its song, giving it no recourse, as it were, to join any other instrument in the symphony of nature.
Yes, Judaism permits the eating of meat, provided that proper intent and mindfulness are present: to elevate the Divine energy contained in meat to a higher human level; to use energy derived from eating to discharge spiritual and moral responsibilities; and to serve God through the pleasures of His world.
by Rabbi Shraga Simmons
Posted in: Hot Topics
RELATED ARTICLES
Judaism and the Environment
CATEGORIES
TOP PICKS